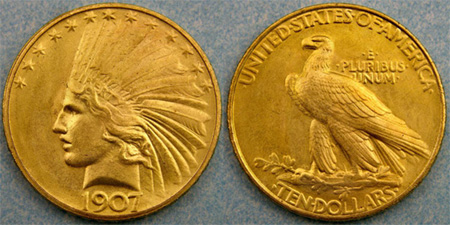 The 1907 Indian Head Gold Eagle with a rounded rim or "rolled edge" was created to solve the stacking problem for the earlier "wire rim" version of the coin. The high production level supports the fact that this issue was created for circulation, however before release the vast majority of pieces were melted.
The Chief Engraver of the United States Mint Charles Barber modified Augustus Saint Gaudens's original design by creating a thicker, raised rim. The higher relief was retained as well as the triangular periods on the reverse of the coin around the motto and denomination.
The US Mint would strike 31,500 pieces on the coining press with another 50 pieces struck on the medal press. Despite the number of coins produced, the Superintendent of the Mint was not happy with the design, as he favored another version executed by Charles Barber struck in lower relief with the periods omitted.
All but 50 of the rolled edge 1907 Indian Head Eagles were melted. The retained examples were privately distributed by the Mint and now represent a significant rarity. It is estimated that 35-45 specimens have survived in mint state grades. These coins now represent the absolute key date to a set of circulation strike Indian Eagles and a prize coin for any collector.
One of the finest known graded PCGS MS67 sold at auction in January 2008 for $460,000.