Guide to U.S. Indian Head Gold Eagles
Featuring a design by renowned sculptor Augustus Saint-Gaudens, the Indian Head Gold Eagle would represent the final series of the $10 gold denomination struck for circulation. Amidst periodic gaps in production, the coins would be struck across three different mint facilities from 1907 until the recall of federal gold in 1933. Mintages cover a wide range, but the scarcer issues of the series were created primarily due to the impact of melting, which led to low survival rates. Rarities also include the initial pattern and earliest design iteration created prior to the start of full-scale production.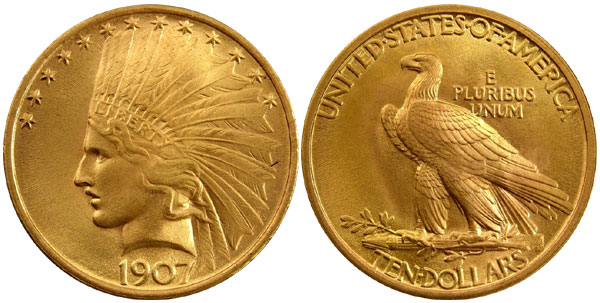 The new design for the series as well as the broad redesign of all circulating coinage of the era can be traced back to the efforts of President Theodore Roosevelt. He had grown displeased with the current designs and sought to make American coins as grand and beautiful as those of ancient Greece. To accomplish his goal, Roosevelt commissioned Augustus Saint-Gaudens to redesign all eligible circulating coinage. Ultimately, Saint-Gaudens would only be able to create new designs for the eagle and double eagle before his death. However, the redesign process would continue through other artists, leading to the so-called Renaissance era of United States coinage.
Saint-Gaudens's design for the eagle features a portrait of Liberty, facing left. She wears an Indian war bonnet with the word LIBERTY inscribed on the band. There are thirteen stars above and the date appears below. The reverse of the coin features a bald eagle perched on bundle of arrows with an olive branch intertwined. The inscriptions include UNITED STATES OF AMERICA above, the motto E PLURIBUS UNUM to the right, and the denomination TEN DOLLARS below. The edge of the coin includes 46 raised stars to represent number of states in the Union.
The design underwent a number of early changes as the United States Mint attempted to balance the relief and artistry sought by Saint-Gaudens with the technical requirements of mass production. The initial patterns were struck in higher relief and featured a wire rim. Due to stacking issues, this was modified to a rounded rim or rolled edge, and finally a standard rim and lowered relief. In 1908, the inscription IN GOD WE TRUST was added on the reverse of the coin to the left of the eagle. In 1912, the number of raised stars on the edge of the coin was increased to 48 following the admission of Arizona and New Mexico to the Union.