The Philadelphia Mint struck Proof Indian Head Eagles (Buy on eBay) during the earlier years of the series from 1907 to 1915. This includes two known 1907 rolled edge satin proofs, which were possibly minted as trial pieces. In the following years, regular proof production would take place in higher numbers, although all survivors are considered rare.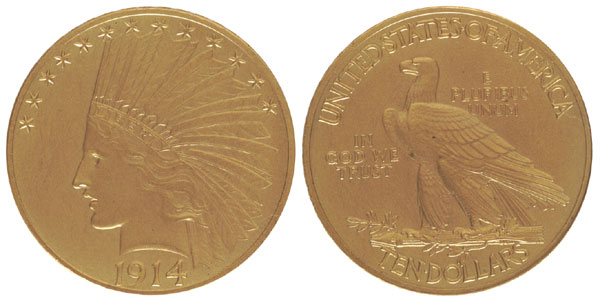 From 1908 to 1915, proof mintages ranged from a high of 204 pieces struck in 1910 to a low of 50 pieces struck in 1914. During the course of production, the Mint experimented with different types of proof finishes which varied in appearance. This included a darker matte finish, a light and slightly reflective Roman finish, and a later matte finish created through sandblasting with fine or coarse particles.
During 1909 and 1910 when the United States Mint was utilizing the Roman Finish, a small number of pieces were struck with the matte finish. The two known 1909 matte proofs have been off the market for many years. The single known 1910 matte proof resides within a complete set of 1910 matte proof coins.