In January and February of 1933, the Philadelphia Mint struck 312,500 examples of the 1933 Indian Head Gold Eagle (Buy on eBay). The following month, President Franklin D. Roosevelt issued an executive order banning private gold ownership. The release of gold coins from the Mint was halted and vast quantities of federal gold were recalled and melted.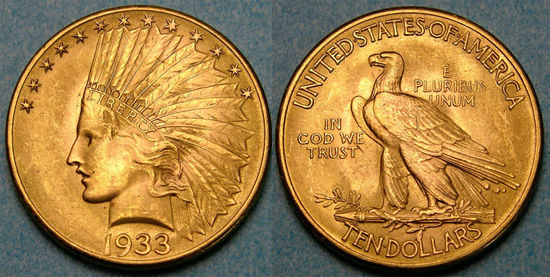 As opposed to the situation for the famous 1933 Saint-Gaudens Double Eagle, a small number of 1933-dated Indian Head Eagles had been released prior to the executive order. Thus, the issue was always viewed as legal to own. From of the original mintage, it has been estimated that 30 to 40 examples of the coin still exist, with most in higher mint state grades.
The 1933 Indian Eagle generates significant interest when it appears at auction, due to its scarcity and storied history. The auction record is held by an example graded NGC MS-66, which sold for $881,250 in 2016.